---
I like the idea of craftsmanship that has been a part of every culture. Jewelry as personal adornment is as old as mankind. As with all things, I draw from the past but work very much in the present offering you an elegant, fun, contemporary look. A BIG Bold look.
My work satisfies a needed realization of expression, a commitment and unstoppable desire to be involved in jewelry as an art as well as a profession. It is an essential part of who I am.
I attended Chaminade College of Honolulu where, although my major was Mathematics, my artistic interests went from drawing, to clay and, finally, to metals. I have tried to keep my work fresh by attending concentrated metals/jewelry workshops adding new techniques to my "design bag".
---
please click link above for current schedule information. Shows will be added as I am accepted into them. Thank you.
---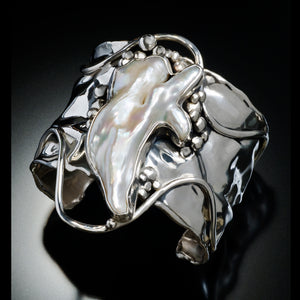 About my work
All of my jewelry creations are handcrafted and one of a kind. This is an elegant, fun collection of contemporary art jewelry in noble metals. Different forming techniques, such as fabrication, foldforming, air chasing and forging are used to transform static sheets of sterling silver into wearable objects of fluidity. Although I primarily use sterling silver, the addition of 14kt gold, pearls, semi-precious stones, minerals and antiquities enhance the richness of each piece of wearable sculpture. Patina is applied to impart a subtle feeling of depth.